St. John Vacation: Know Before You Go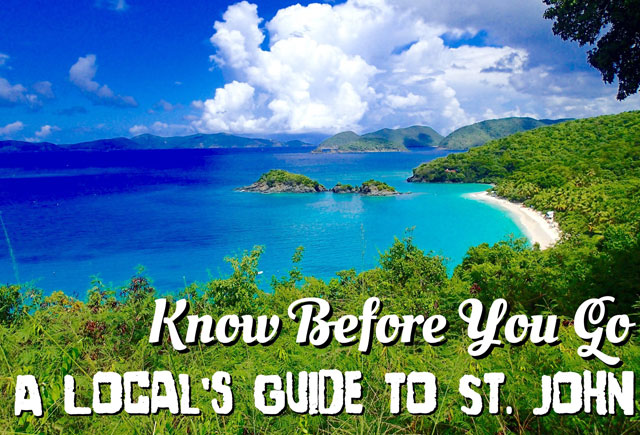 If you're looking for a pristine piece of paradise where you can truly escape the hustle and bustle and get on island time, you're chosen wisely with St. John, USVI. Franchise-free, not a traffic light in sight, and over a dozen perfect Caribbean beaches, St. John is America's off-the-grid destination. Even St. Thomians head over to St. John when it's time for a break. But before you start planning your hikes through the National Park and romantic, ocean-view dinners, there are a few things you'll want to know about St. John that will make planning your unforgettable vacation a lot simpler. How do you get to St. John when there's no airport? Do you need a passport to get to the USVI? What should you wear to dinner? I have the answers to these and more "know before you go" tips to get you ready for your vacation to paradise!
Passports- U.S. Citizens do not need a passport to come to the U.S. Virgin Islands (St. Thomas, St. John, and St. Croix). Flights to the USVI are much like any other U.S. domestic flight and require the same documentation. It is important to note that the U.S. Virgin Islands are near the British Virgin Islands (Jost Van Dyke, Tortola, Virgin Gorda, and Anegada), and many boating excursions and sails are available to travel to our neighboring islands. A valid U.S. passport is required to enter any of the British Virgin Islands, so keep that in mind when booking excursions.
KNOW- A passport is not required to come to St. John or St. Thomas but is required for any excursions going to any of the British Virgin Islands.
Getting to St. John- St. John does not have an airport, so you will first have to fly to its sister island of St. Thomas. The St. Thomas airport is Cyril E. King, and the airport code is STT. The "other" St. Thomas airports are the seaplane terminal which only hosts flights to and from St. Croix and the Private Jet Center. As you are arriving to the USVI, keep in mind that local etiquette is to first greet people as you are addressing them with a "Good Morning/Afternoon/Night." If you are unsure of the time, "Good Day" is always acceptable. When you land at the airport in St. Thomas, you will be welcomed with a free shot of local Cruzan rum. A restaurant and facilities are available near baggage claim. From there, you'll have a few options for transportation. There is only one taxi company that operates from the airport, so you can be sure the taxis are safe and are regulated. However the wait time between getting your bags and reaching your destination can be daunting and exhausting as you find a driver, wait for the taxi to fill up with other travellers and their luggage, and make multiple stops throughout the island for those passengers to be dropped off. Taxis also charge per person and per bag with average taxi fare from the airport to the St. John ferry terminal at $11 per person plus $4 for large bags and $2 for small bags. By far the most convenient options is private airport transportation that will save you the hassle and the wasted time with a friendly personal driver who is ready and waiting the moment you get off the plane to get you straight to the ferry in Red Hook. The passenger ferry from St. Thomas to St. John is $7 per person each way plus $4 for luggage. It runs every hour on the hour until midnight, and it lasts about 20 minutes. Avis and Budget car rental services (Hertz does not allow vehicles to go over to St. John) are also available at the airport in St. Thomas and should be arranged well in advance to ensure availability. If you opt to rent a car, note that we drive American vehicles on the LEFT side of the road, and you will have to bring your car over to St. John on the car barge ferry which runs until 7pm. Be sure to ask the rental company to provide you with a map of St. Thomas and St. John as GPS services do not typically work in the USVI because we lack a standard address system.
KNOW- You must fly into St. Thomas to get to St. John. The airport code for St. Thomas is STT. Taxi service from the airport to the St. John ferry is safe and regulated, but the most convenient option is to arrange private airport transfers. The passenger ferry to St. John runs from Red Hook every hour on the hour until midnight. Car rental services are available at the airport but should be prearranged. If you rent a car, remember that we drive on the left, keep a map of the island handy, and note the car barge times.
Getting Around in St. John- The main town in St. John is Cruz Bay which is a very walkable area. Depending on where your lodging is located, you may find that you can comfortably walk to go shopping or to dinner. There are also many walking trails throughout the National Park Car in St. John if you enjoy hiking. To get around the island or to hit the beaches, you will need a form of transportation. Car and Jeep rentals are also available in St. John if you prefer to avoid the car barge from St. Thomas. For those not renting a car, taxi service is available 24 hours throughout the island. Be careful to use taxis with a taxi service light and USVI taxi license plate; these are usually large vans. Accepting rides from non-licensed taxi drivers, or "gypsy taxis", is not regulated and at your own risk. Public transportation service is available in St. John through the bus system. The fares are $1 per person but routes are limited. This form of transportation is not recommended as you will likely have a significant walk to or from a pickup location.
KNOW- Cruz Bay is a walkable area, and there are many walking trails in the National Park. Car and Jeep rentals are available in St. John for exploring the island and beaches. Taxi service is the best alternative option for getting around the island. Always use a taxi with a taxi light and USVI taxi license plate.
Currency & Gratuity- The official currency in the USVI is the U.S. dollar. No other currency is in circulation and therefore would need to be converted to USD for your visit to St. John. While many places on island accept major credit cards (Visa, MasterCard, Discover, and American Express), there are many venues which will only accept cash (taxis, customs docks, and some vendors and restaurants). Plan to carry cash accordingly, and remember to inform your credit card provider that you will be in the Caribbean. The U.S. Virgin Islands are duty free; no tax is added on any goods or food. Resorts and excursions in St. John may have resort tax and fees added on, but when it comes to shopping, the price you see is the price you will pay. Customary gratuity rates when dining in the USVI are the same as the States, 15-20% on food tabs. Review your bill carefully as some popular restaurants will automatically charge gratuity.
KNOW- In St. John, The U.S. dollar is the only currency accepted. Credit cards are not accepted at all venues, so plan to carry cash. Tax is not added to any retail or dining purchases in St. John, but fees or auto-grat may be charged.
Cell Phone Service- Each cell phone provider has their own policy for service in the U.S. Virgin Islands. You should always verify your plan with your provider before leaving the continental U.S. Sprint and AT&T are stationed on the islands and are treated the same as your domestic service. T-Mobile does not implement roaming charges for calls from the USVI. Verizon charges roaming fees for calls from the USVI but does not for text messages. With any of these providers, be careful to check your phone frequently or disable your data service as parts of St. John will pick up towers stationed in the British Virgin Islands, resulting in international charges. If your provider charges roaming fees, a smartphone can be rented in St. Thomas from Choice Wireless for $5 a day. Some resorts, restaurants, and stores offer free wifi. Look into wifi calling and messaging services before your visit to St. John to take advantage of this free alternative.
KNOW- Verify your cell phone provider's policy before your visit to St. John to avoid roaming fees. A smartphone can be rented in St. Thomas for $5/day as an alternative. Many places on island offer free wifi for you to take advantage of.
Island Excursions- Peak season for St. John is November-May, so availability for excursions during these months may be limited. In the off season, especially August-October, tour schedules will usually change to go out less frequently. In any case, it is best to use a booking service like CaribbaConnect to book early and guarantee your excursions, and with CaribbaConnect, we advertise the lowest price online with no hidden fees, taxes, or service charge add-ons for day sails, powerboat excursions, ecotours, island tours, private excursions, and more. Always double check what is required before going on the excursion as some tours may take cash only or require a passport. Because St. Thomas is such a popular cruise port, it is always wise to plan around the cruise ship schedule as even St. John's top beaches such as Trunk Bay, Cinnamon Bay, and Majo Bay will see crowd increase from cruisers. Avoid popular National Park beaches on days with multiple cruise ships especially if you have a rental car. You can check the St. Thomas cruise ship schedule HERE. If you're visiting the island on a cruise ship, see our A Local's Guide to St. Thomas: Know Before You Cruise.
KNOW- Regardless of when you are visiting St. John, book excursions early, check for requirements, and avoid service fees. Monitor the cruise ship schedule when planning to visit popular beaches.
Island Wear & Packing Tips- Island casual is the norm in St. John. While a swimsuit and cover is appropriate for going from your resort to the beach, it would not be appropriate for walking in Cruz Bay or eating in a restaurant that isn't beachside. The basic rule is have real clothes on when not at the beach. For fine dining restaurants, dressing up is not required. For men, shorts or pants and a polo are always appropriate, and for women, anything from shorts or pants and a blouse to a dress is perfect for a nice dinner. Unless you are going for a run or a hike in the National Park, tennis shoes are not necessary, and sandals and flip-flops are the ideal island footwear. Plugs in the USVI are standard U.S. plugs, so you do not need any converters for chargers. Sunscreen is usually cheaper in the States, so it would be wise to pack if you are checking luggage. You may consider packing or purchasing insect repellant as the island is prone to mosquitoes and sandflies. Consider bringing snorkel gear if you have it to avoid rental equipment. And of course, don't forget your camera!
KNOW- Island casual and sandals are always appropriate. Swimsuits and covers are only appropriate for the beach. Plugs are the same as the U.S., and consider packing sunscreen and insect repellent.
Now that you know a little of the quirks of the USVI, you're ready to really get to know St. John as you plan your trip to paradise. After all, a vacation that begins with island hopping is bound to be one full of adventure and unforgettable experiences!
See You in St. John,
Nishant