A Local's Guide to St. John Ecotours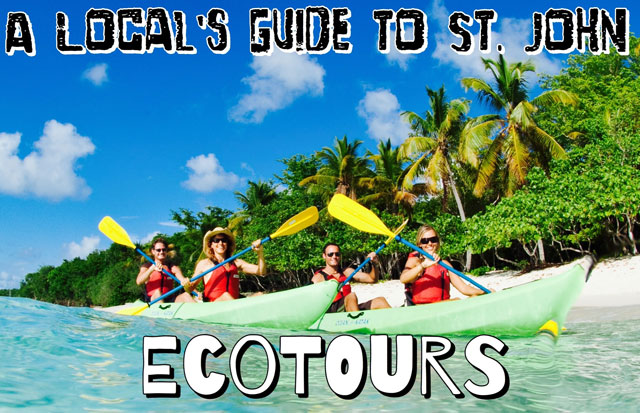 St. John is full of unique flora, such as palm trees, exotic flowers, and tropical fruits, and fauna like the wild deer and donkeys found roaming the island and the abundant marine life and thriving reefs below the surface. The natural beauty of St. John is one of many reasons why this island is a famous destination. There are many efforts being made to protect and preserve these species to keep paradise pristine and perfect for years to come such as the Virgin Islands National Park and ecotourism. Ecotours are a great way to encounter and learn more about these natural wonders in a way that is safe for the animals and the environment while providing a fun and incredible excursion that is sure to the the highlight of your vacation. Join island preservation efforts and have an adventure to exclusive destinations showcasing the natural beauty of St. John:
St. John Hike and Snorkel Ecotour- Get acquainted with the Virgin Islands National Park on this tour sampling its beauty above and below the Caribbean Sea! Begin your tour with a hike on the Lind Point Trail as your ecotour guide points out exotic flora and fauna while providing you with some St. John history. The trail opens up to perfectly pristine Honeymoon Beach welcoming you with its bright turquoise waters. Get a crash course in snorkeling from your expert guide then dive in and explore the vibrant coral reef. Swim with schools of tropical fish and spot exotic marine life such as the Southern Stingray. Finish your ecotour with a hike through wild cinnamon plants, the botanical gardens at Caneel Bay Resort, and finally, the ruins of the Caneel Bay Sugar Mill Plantation. Hike and snorkel some of the most beautiful areas of St. John on this ecotour through the National Park!
Caneel Bay Kayak, Hike, and Snorkel Ecotour- Caneel Bay is notorious for being one of the most beautiful and well-protected bays in St. John. Gain exclusive access to get up close and personal with its abundant flora and fauna on this kayak, hike, and snorkel ecotour exploring all aspects of Caneel Bay. Paddle through the crystal bay and admire the tropical fish and coral reef beneath the clear waters. Hike the Turtle Point trail as your ecotour guide provides insight on the exotic flora and fauna you will encounter. Snorkel throughout the warm Caribbean waters and be amazed the the thriving reefs full of unique marine life and fish species. You may even spot a sea turtle! Learn about the history of the island, discover new creatures, and have an adventure on this all-in-one ecotour!
Henley Cay Kayak and Snorkel Ecotour- Some of the most beautiful spots in the Virgin Islands are on the uninhabited cays just off the shores of the "big islands". Let us take you on a kayaking adventure to the beautifully untouched Henley Cay just outside of Caneel Bay. Admire the crystal clear waters and the abundant reef below as you make the trek to Henley Cay. Look out for sea turtles and eagle rays that can be spotted breaching in the bay. Walk the trail on Henley Cay to spectacular views of the British Virgin Islands. Snorkel the thriving reefs surrounding Henley cay teeming with tropical fish, unique coral species, and abundant marine life. Relax on Henley's sandy beach and take in the views of your journey from Caneel Bay and Honeymoon Beach. Experience highlights of the best of St. John's natural beauty on this ecotour adventure to Henley Cay!
Caneel Bay and Henley Cay Ecotour with Lunch- If you're torn between Caneel Bay and Henley Cay, this extended ecotour is your tie-breaker as it explores the best of both destinations and includes a picnic lunch! Kayak through scenic Caneel Bay and peer through the clear waters at the thriving ocean below. Take a gorgeous hike to beautiful Scott Beach and continue on your final destination at Henley Cay. Take a beach break on its sandy shores or explore the trail and take in the breathtaking views. Explore the untouched waters and swim with the schools of tropical fish or even with a sea turtle or two. Encounter large unique coral species such as fan coral, brain coral, and the endangered elkhorn coral. After your day of adventuring, end your tour with some relaxation at Honeymoon Beach with a swim or a nap under a coconut tree. This all-encompassing tour is a full day of adventure, exploring, and tropical bliss!
Preserve and connect with the natural beauty of St. John in a one-of-a-kind ecotour excursion! If you can't get enough of these incredible encounters with nature, check out our Ecotours in St. Thomas, just a quick ferry ride away from even more exotic island adventures!
Connect with Nature,
Megan
CaribbaConnect Ecotours:
St. John Hike and Snorkel Ecotour
Caneel Bay Kayak, Hike, and Snorkel Ecotour
Henley Cay Kayak and Snorkel Ecotour