St. John: Coral Bay Dining Guide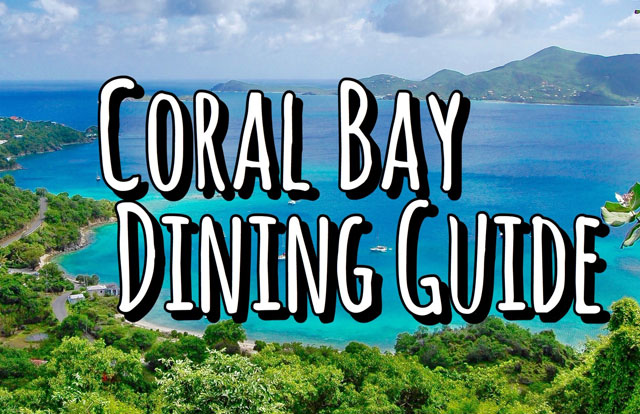 Coral Bay is perhaps the most "away" place you'll find in the USVI. Though you may feel like you've found the end of the earth, you're certainly not alone, and those that have settled in on this perfect little escape have brought the good food and Caribbean hospitality to keep the island vibes going even in the "middle of nowhere". Let me be your guide to those perfect island dining moments on your getaway:
Breakfast- Breakfast Fare, Brunch With A View
Cafe Concordia (Sunday Brunch)
Miss Lucy's (Sunday Brunch)
Chateau Bordeaux
Lunch, Dinner, or an Island Experience
Angel's Rest Floating Bar- Drinks in the Caribbean Sea
Aqua Bistro- (L,D) American, Mediterranean, Caribbean
Cafe Concordia- (D) International Fusion
Chateau Bordeaux- (L) Caribbean
Coral Bay Caribbean Oasis- (D) Southern Comfort
Dolphin Market- Market, Provisions
Ekaete Pink Corner- (L,D) Caribbean
Indigo Grill- (D) International Fusion
Miss Lucy's- (L,D) Caribbean
Pickles in Paradise- (L) Sandwiches, Lighter Fare (Dinner on Wednesdays)
Shipwreck Landing- (L,D) Seafood, Steak, Burgers
Skinny Legs- (L,D) Island Bar & Grill
Sweet Plantains- (D) British, Caribbean
The Tourist Trap- (L,D) Island Bar & Grill
Vie's Snack Shack- (L) Caribbean
Whether you're visiting for the day or thinking you might stay, there's nothing quite like a meal in Coral Bay, and it's definitely part of the charm and unique experience of this little island community. Escape everyday life and indulge in the island: more sun, more relaxation, more adventure, and more great food!
Escape & Indulge!
Amit