A Local's Guide to St. John: Getting to the Island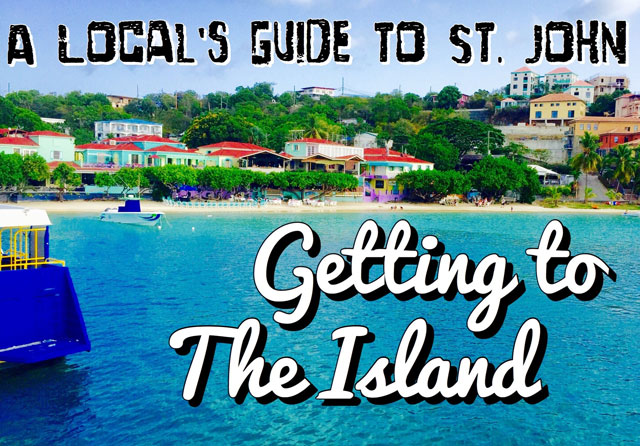 St. John in all its natural, pristine glory is an island in its truest form, meaning the only way to get there is by boat. The seclusion and degree of separation from the outside world is part of the charm of this laid-back, island time experience. So what does this mean for your St. John getaway? There are a few steps to getting to your piece of paradise. With my help, you'll see that it's actually quite simple to get to St. John from St. Thomas, and it's 100% worth the journey!
The Airport- St. John does not have an airport, so whether you're flying commercial or private jet, every journey to St. John begins at the St. Thomas airport. If you're flying with an airline, you will arrive at Cyril E. King airport (STT) and will quickly learn the quirks of island travel. Perhaps for the first time ever, you will exit the plane via a set of stairs (keep that in mind with your carry-on luggage). As you enter the airport, you will be greeted with a free shot of local Cruzan rum (enjoy)! There are restrooms right when you walk in as well as one small restaurant for a quick bite or beverage. There is only one area for baggage claim where you'll wait for the carousel. To get to St. John, you will be taking a ferry, and you have a few options for how to get to the ferry terminal. You may rent a car at the airport and take the car barge. The rental company can provide you with a map and directions to the Red Hook ferry terminal (car barge). Note that we drive on the LEFT in the USVI. If you're coming on a later flight, this is not the best option as the car barge typically stops running around 7pm. Also not all companies allow cars to go over on the barge, so you will want to double check before renting in St. Thomas. Taxi service is the standard form of transportation to get from the St. Thomas airport to the St. John ferry. However between waiting on luggage, being herded into a large van, waiting for it to fill with other passengers and their luggage, taxi fares and bag fees, and all their stops on the way to the ferry, arranging for Private Airport Transportation will make your journey to St. John significantly more efficient and enjoyable with a private vehicle and friendly personal driver, and pricing is comparable with no luggage fees!
The Ferries- There are two St. John ferry terminals in St. Thomas, the Charlotte Amalie ferry and the Red Hook ferry. The St. Thomas airport is just outside of Charlotte Amalie, so you will be closest to the Charlotte Amalie ferry. The Charlotte Amalie ferry is $13 per person each way and $4 per piece of luggage. The ride is 40 minutes long and departs at 10am, 1:30pm, and 5:30pm. If your flight coincides with these times, you may want to take advantage of this ferry. If you're renting a car for transportation from the St. Thomas airport or need more flexibility with the ferry schedule to St. John, the Red Hook ferry is where you will depart from. It's approximately 30 minutes from the STT airport to the Red Hook ferry. The car barge departs approximately every hour. It fills up quickly so you will want to budget to arrive a minimum of 20 minutes early. Fare is $35 per vehicle with a small fee to enter the loading gate (around $5). The people ferry runs from Red Hook to St. John every hour on the hour until midnight, and it's about a 20 minute journey. Fare from the Red Hook ferry to St. John is $7 per person each way, $14 round-trip, and $4 per piece of luggage. Since you flew into the St. Thomas airport, you may want to purchase a round-trip ferry ticket, so that's one less thing you have to worry about on your return trip. From either St. John ferry terminal, you should arrive at least 15 minutes prior to departure to comfortably have time to get tickets and board the vessel, and Private Airport Transportation is another way to guarantee you're on time for the ferry. Once you're on the ferry, the journey is almost over, and it's time to take a deep breath and take in the island views!
The Island of St. John- If you're journeying to St. John on the car barge, you will arrive just outside of the main town area in St. John, Cruz Bay. Be sure to pick up a map of St. John from the passenger ferry terminal in Red Hook before heading over to navigate the roads. Remember to keep LEFT and always keep the map handy as there is no standard address system in St. John. Passenger ferry travelers will arrive right on the shore of Cruz Bay and will be welcomed with ANOTHER free shot of local Cruzan rum (cheers)! Resort shuttles and taxi services are all available just outside of the terminal. Some small resorts and B&Bs are even within walking distance. Jeeps are also available in Cruz Bay to rent for your stay in St. John. From here it's your choice for how to reach your St. John home to let the vacation begin!
The journey from the St. Thomas airport to St. John is a small price to pay for a truly secluded paradise vacation! Escape franchises, traffic, and the all too familiar American hustle and bustle and go off the grid for a while with a hike through the Virgin Islands National Park, coffee with an island sunrise, or a relaxing swim in the warm Caribbean Sea. It's all waiting for you in St. John! If you have any questions about getting from the St. Thomas airport to any of the St. John ferry terminals or any inquiries about the islands, call or e-mail us for authentic local insight!
Welcome to Your Escape,
Amit
*Please note that we make our best effort to keep pricing up-to-date, but it is subject to change without our notice.